Products
Automotive Technology
thyssenkrupp's Automotive Technology business segment is one of the leading suppliers and engineering partners to the international auto industry. The range of products and services includes high-tech components and systems as well as automation solutions for vehicle manufacturing. Our claim is to develop our products specifically to meet our customers' needs and offer them the highest quality and functionality.
Materials Services
The Materials Services segment ensures that customers can concentrate on what really matters: their core business. As part of the strategic transformation "Materials as a Service" the largest materials and distribution provider in the western world is focusing on two main areas of activity: global materials distribution and customized services. As a flexible, competent consulting partner, the company combines the supply of raw materials and materials with supply chain management services.
Multi tracks
New segment with multiple areas of special industry expertise. We formed the Multi Tracks segment as of October 1, 2020. The segment comprises multiple businesses. The companies of Multi Tracks offer specialized products and services to our customers in different industries.
Steel Europe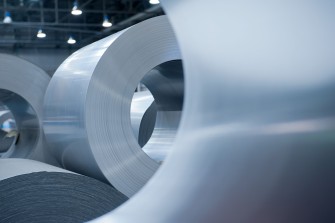 thyssenkrupp Steel stands for innovations in steel and high-quality products for state-of-the-art and demanding applications. The range of services extends from customer-specific materials solutions to materials-related services. thyssenkrupp Steel meets the increasing demands for ever more efficient light weighting and safety standards, researches and develops new high-performance steels and sets standards in surface and processing technologies. A wide range of sectors are served internationally, including the auto, engineering, special vehicle, appliance and packaging, energy and construction industries.
As a pioneer in climate transformation, thyssenkrupp Steel has set itself the goal of producing 3 million metric tons of CO2-neutral steel per year from as early as 2030. By 2045 steel production is to be completely climate-neutral. With bluemint® Steel, thyssenkrupp Steel already offers certified steels with up to 70% reduced CO2 intensity. The CO2-reduced products are produced at the Duisburg site and give customers the certainty of using high-quality steel with an improved eco-balance.
Bearings and Forged Technologies
Technology Center
Our technology center in India offers R&D services in IIoT, Artificial Intelligence, Data Analytics, Cloud computing and AR/VR for our businesses globally. It also develops mobile apps and software solutions that are a perfect amalgamation of our domain knowhow and digital engineering.