Products
Automotive Technology
We are a global producer of high-tech components for the automotive industry and mechanical engineering, leveraging our expertise of assembly technology, in the areas of forging operations and cold-forging processes. Combined with the mechanical processing and the competence for complex assembly we have the production know-how for high-performance components along the entire value chain.
We offer our customers an entire range of assembly technology for engines, transmissions, axles, car body, truck chassis and cabin by enhancing and further developing tried-and-trusted standard components. These range from manually operated, ergonomic assembly tools to fully automated stations for the assembly of complex components.
Our comprehensive product range of services includes consulting customers in the development of assembly process and assembly-suitable components, plant and factory planning as well as the design, manufacture, supply, and commissioning of turnkey assembly lines.
Even providing customers with expertise when it comes to plant installation through process-related documentation and plant-specific training as well as assembly support after the production starts through nearby service support points round off our complete line of services.
Professional testing solutions for engines, transmissions, axles, car body, truck chassis and cabin guarantee quality and improve productivity. As a turnkey supplier, we work with our customers to develop strategies and solutions for highly complex product and assembly requirements. We are securing our technological edge with newer and newer developments. By doing so, we benefit from our comprehensive, internally bundled expertise in the fields of process know-how, design, service, test and assembly.
Materials Services
As business area of the thyssenkrupp Group, we are a successful global materials distributor. 500 branches in 44 countries ensure we have a global presence. We also provide a wide range of innovative services to manufacturing and processing companies. The production of stainless steels and high-performance materials rounds out our broad-based offering.
Our product range includes all forms and types of aluminum, steel, titanium and non- metallic materials in the widest possible range of both, national and aircraft manufacturer's proprietary specifications.
Our product range includes all forms and types of aluminum, steel, titanium and non- metallic materials in the widest possible range of both, national and aircraft manufacturer's proprietary specifications.
Key Customers
Boeing, Airbus, Bombardier and Embraer
Plant Technology
A full range of specialist engineering and construction services and a ship-building history stretching back centuries are the strengths of Industrial Solutions. High-quality engineering is at the center of our success. Global project management skills, first-class system integration expertise, reliable procurement and supplier management, and a service offering meeting the highest standards form the basis for lasting customer satisfaction. We combine our plant engineering and construction expertise to offer our customers even more: Engineering Excellence³.
Our product range includes:
Bucket wheel excavators • Screens
Spreaders • Apron Feeders
Mobile transfer conveyors • Paddle Feeders
Mobile crushing plants • Wagon Tipplers
Transport crawlers • Twin Wagon Tipplers
Crawler Mounted Trippers • Wagon loading systems
Stackers • Pipe Conveyors & Long Distance Conveyors
Reclaimers • Shiftable Conveyors
Stacker cum Reclaimers • Conveyor components like idlers, pulleys
Circular Stacker cum Reclaimers • Gearless pulleys
Crushers • Port handling systems
Sizers
Screens
Apron Feeders
Paddle Feeders
Wagon Tripplers
Twin Wagon Tripplers
Wagon loading systems
Pipe and Conveyors & Long Distance
Shiftable Conveyors
Conveyor Components like idlers
Gearless pulleys
Port handling systems
Wagon loading sysApron Feeders
Apron Feeders
Paddle Feeders
Apron Feeders
Key Projects/Clients
We have been fortunate to be associated with country's leading public sector units including NLC, NTPC, BHEL, DVC, NALCO, NMDC, IOCL, VSP & various state electricity boards for their special mining machines, coal and bulk material handling projects.
We are also associated with private sector companies like Reliance Industries Ltd, Jindal Power Ltd, Adani, Coastal Gujarat Power Ltd, Tata Power Ltd, Coastal Energen, NCC etc. in their prestigious projects.
We have successfully commissioned several integrated cement plants of capacities ranging between 650 to 10000 tons per day in India and overseas.
The scope of equipment supply includes:
Crushers
Stackers and Reclaimers
Grinding systems - Polycom, VRM, Tube mill
Separators – Static and Dynamic
Raw meal storage and homogenizing systems
Mechanical and pneumatic conveying equipments
Pre-heater, kiln and pre-calcination systems
Clinker cooling systems
Dosing and feeding systems
Cement storage and packing systems
Key Projects/Clients
Ambuja Cements Ltd (Holcim Group)
ACC Ltd. (Holcim Group)
The India Cements Ltd. (ICL Group)
Vasavadatta Cement (B.K.Birla Group)
Grasim Cement (Aditya Birla Group)
Jaiprakash Associates Ltd. (Jaypee Group)
JK Cement Ltd.
Birla Corporation Ltd.
Wonder Cements Ltd. (RK Marble Group)
Reliance Cement Co. Pvt. Ltd.
Additionally, our overseas projects include cement plants and machinery in Bangladesh, Kenya, Mozambique, Nepal, Indonesia, Malawi, Sudan, UAE and Bahrain.
With our dynamic presence for over four decades in the boiler and power industry, this division of thyssenkrupp has closely witnessed and evolved with the changing trends of the Indian as well as global power industry. With the vast experience and the groomed expertise of our team of energy professionals, we feel the pulse of the market and offer customised steam and power solutions for our esteemed clients, while enjoying working TOGETHER with them and help develop customised steam and power solutions for their industries, thus contributing to their success.
We have achieved technology and market leadership position in the circulating fluidized bed boilers and cement waste heat recovery boilers. After being so successful in delivering such sophisticated technology for solid fuel fired and waste heat recovery boilers, we decided to introduce other modern steam generation technologies e.g., boilers suitable for oil and gas firing, agro-waste, critical biomass, municipal solid waste firing etc.
We have done extensive work in the field of supplying boilers in cement, aluminium, steel, IPPs, chemical, petrochemical and refineries. We are also in a position to supply waste heat boilers depending on the application needs. The total number of boilers designed and supplied by us are in excess of 350 nos. catering to all applications mentioned above.
Our efficient products and prompt services have helped us secure customer's trust in thyssenkrupp brand and we cherish this unique bond with our clientele that reciprocates time and again through repeat orders, making us always the first choice when it comes to their requirements of steam or power plants, may it be solid, liquid or gaseous fuels on standalone package basis or turnkey EPC contracts.
ENERGY PRODUCTS:
CFBC Boilers (For Coal firing)

Biomass Boilers (For Critical Biomass & Bagasse firing)

Waste Heat Recovery Solutions (For capitalising on waste heat with Steam & Power solutions)

Heat Recovery Steam Generators (For capitalising the waste heat from Gas turbines)

Oil & Gas Boilers

Municipal Solid Waste fired Solutions

Enviro Products (ESP, Bag Filters & Dry FGD

Our product range includes:
Milling Plant Equipment
2-Roller Mills
3-Roller Mills
Grooved Roller Pressure Feeder (GRPF)
Toothed Roller Pressure Feeder (TRPF)
Rotary Screen
Swing Hammer Fiberizer
Swing Hammer Shredder
Process House Equipment
Falling Film Evaporators
Continuous Pans
Direct Contact Heaters
Vertical Crystallizers
Batch Centrifugal machines from 750 kg/charge to 2250 kg/charge
Continuous Centrifugal machines of 1100, 1350 and 1500 mm diameter
Bagasse Fired Boilers with capacities ranging from 20 to 180 TPH
Sugar Refinery Equipment
Key Projects/Clients
We have successfully commissioned over 133 plants including major expansions of varied capacities ranging from 800 TCD to 10,000 TCD and over 4875 continuous and batch centrifugal machines worldwide. We have supplied sugar plants and equipment to more than 25 countries in South America, Africa, Europe and South East Asia besides India.
Some of the recent projects commissioned include:
Lokmangal Mauli Industries Ltd. - 5000 TCD Sugar Plant with modern technologies
ICPL - Expansion of Milling Plant upto 12500 TCD including 2 Nos 2-Roller Mills of 50"x100"
Sukari Industries, Kenya 1500 TCD Sugar Plant
Song Con Sugar - Boiler 100 TPH x 25 Ata (under execution)
We have executed over 600 contracts in India and abroad over the past 4 decades. The core process areas covered by our references are :
Fertilisers
Plants for Ammonia, Urea, Weak Nitric Acid / Concentrated Nitric Acid, Ammonium Nitrate / Calcium Ammonium Nitrate, Ammonium Nitrophosphate, Di-Ammonium Phosphate / NPK, Triple Super Phosphate, Mono Ammonium Phosphate
Petrochemicals & Organic Chemicals
Plants for Ethylene Dichloride, Vinyl Chloride Monomer, Polyvinyl Chloride, C-Polyvinyl Chloride, Propylene, Polypropylene, Propylene Oxide, Glycol, Polyols, Ethylene Oxide, Ethylene Glycol, High Density Polyethylene, Low Density Polyethylene, Linear Low Density Polyethylene, Ethyl Benzene Styrene Monomer, Polystyrene, Poly Butylene Terephthalate Resin, Styrene Butadiene Rubber, Polychloroprene, Polyamide, Nylon, PET, Polyesters, Vinyl Acetate Monomer, Linear Alkyl Benzene, Adipic Acid, Formaldehyde, Caprolactam, n-Butanol, Detergent Alcohol, Epichlorohydrine, Methyl Isobutyl Ketone
Refinery Units
Refinery Units : Crude Distillation Units, Vacuum Distillation Units, Hydrocracker, Diesel Hydrotreater Units, Naphtha Hydrotreater, Continuous Catalytic Regeneration Reformer, Aromatics Extraction, Diesel Hydro Desulphurisation, Gas Oil Hydro Desulphurisation Units, Visbreaker, Coker LPG Treatment Unit, Sulphur Recovery Units
Motor Spirit Quality Upgradation Projects
Hydrogen Plants, Hydrogen Compression & Distribution System
Residue Upgradation (VGO-HDT, ATF & FCC LPG Merox)
Gasification (based on Coal / Petcoke / Biomass), Integrated Gasification Combined Cycle (IGCC)
Chlor-Alkali
Plants for Caustic Soda, Chlorine, Conversion to Membrane Cell, Caustic Potash, NaCl ODC, HCL Electrolysis
Inorganic Chemicals & Metallurgy
Plants for Chlorine Dioxide, Bleaching Powder, Sodium Chlorate, Polyaluminium Chloride, Hydrochloric Acid, Spray Dried Silica, Sulfuric Acid, Hydrogen Peroxide,
Zinc Smelting, Zinc Oxide, Alumina
Storages & Tank Farms
Low Temperature storages for Petrochemical Tank Farms, and Cryogenic Storages for Liquefied Gases like Ammonia, LPG, Ethylene, Benzene, Propylene Tanks & Terminals, Terminal Automation, Refrigeration Systems
Industrial Plants
Plants for Air Separation Units, Hydrogen-Nitrogen Generation Units, Glycerine / Fatty Alcohol, Cosmetics, Coke Oven Gas Treatment Plants, Coal Tar Filtration Filter Press Plants, BOPP for large Power Generation Units, Cement Plants, Gelatin Plants, Ion Resin Plants, Polyester Resin Plants, Iron Oxide Pigment Plants ,Water-borne Paints Plants
Offsites & Utilities for mainstream Plants
In the course of implementing our projects, we have associated with some of the leading international Licensors for their technologies, in addition to projects executed with group technologies. Some of these Licensors are:
Germany: BASF, Basell, Bayer, Caloric, Evonik, Outo Kumpu, Plinke, Uhde
Canada: Rio Tinto Alcan, Nova Chemicals
France: Atochem, Arkema, Axens, IFP
Denmark: Haldor Topsoe
Italy: Conser, Montedipe, Radici
Japan: Mitsubishi Heavy Industries, Shin-Etsu
The Netherlands: AkzoNobel, Shell, Stamicarbon (DSM), Yara
Norway: Norsk Hydro
Poland: Ciech Icso, Polservice
Spain: Incro
Sweden: Formox AB
Switzerland: Bertrams, Uhde Inventa-Fischer
United Kingdom: Fordell, Johnson Matthey
USA: CB & I Lummus, Chemtura, Celanese, Huntsman, Monsanto, Parsons, UOP
Global Footprint
Though the Indian markets continue to be our focus area, our projects have been executed across the world, either independently or in conjunction with our group companies. We have implemented projects in:
Americas : Chile, Canada, Mexico, Puerto Rico, USA
Europe : Belarus, Belgium, Czech Republic, Finland, Germany, Greece, Hungary , Italy, Lithuania, Netherlands, Norway, Poland, Turkey, United Kingdom, Ukraine
MENA Region : Algeria, Egypt, Israel, Jordan, Kuwait, Morocco, Oman, Qatar, Saudi Arabia
Africas : Algeria, South Africa
Asia : Bangladesh, India, Turkmenistan
South East Asia : China, Indonesia, Malaysia, Myanmar, Philippines, Singapore, Taiwan, Thailand
Steel Europe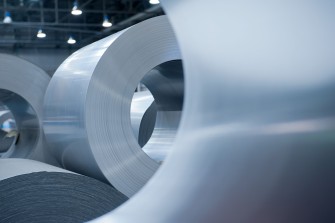 Steel is the basis for the living standards of highly developed industrialized nations and for dynamic growth in emerging economies. Steel Europe stands for innovations in steel and it is a pacesetter in the development of high-tech steels, innovative coatings and processing technologies. The business area supplies intelligent steel products for the innovations of tomorrow.
We offer a wide range of products from specialty steel like NGO and GO, to a variety of Carbon steel and stampings.
Our products comes with host of advantages like several choices of insulation coatings and nominal thickness, slit widths and cut sheets in rectangular or parallelogram shapes.
We are the only manufacturer of GO steel in India.
Key projects:
TKES India is a leading supplier to major motor, generator, pump and transformer manufacturers in India. Customer list includes valued companies like BHEL, Siemens, ABB, Kirloskar Electric, Crompton Greaves Limited, L&T, Emerson Climate Technology, Cummins Generator Technologies, Suzlon Generators, Tecumseh and Lubi pumps.
Bearings and Forged Technologies
Our leading position in the worldwide crankshaft market is the result of constant efforts to improve our products and processes. We are not interested in short-lived successes, but in building a solid basis upon which expertise and partnership can flourish.
We produce machined crankshafts for midrange diesel engines in medium and heavy commercial vehicle applications.
Rothe Erde® slewing bearings are machine elements which absorb all axial and radial forces and the resulting tilting moments in a single self-retaining and ready-to-install bearing unit.
Their low profile and an excellent weight/performance ratio, open centre, and the possibility of an integrated gearing make Rothe Erde® slewing bearings ideal structural components.
We manufacture a comprehensive range of slewing bearings with the widest scope of designs.
In India, we manufacture single row and double row ball and roller bearings between 0.5m – 4.0m diameter.
Our team of engineers can help you choose or design the most effective and efficient solution to your specific undercarriage need. We can help you reduce development and engineering time, tooling expenses and facility costs, while adding value to your business.
Superior engineering, innovative technology, comprehensive know how and state-of-the-art manufacturing guarantee the total quality of the products and services offered to you. Custom made solutions and project-engineering support is available upon request.
Our product range includes undercarriage systems and components for tracked earthmoving machinery, e.g. mining, forestry and agricultural machinery, excavators and earthmovers.
Track Shoes: Hot rolled, cast and hot forged shoes
Idlers: Cast, forged and fabricated types, low temperature (-50ºC) version
Rollers: Single, double and inner flange rollers, low temperature (-50ºC) version
Track chains: Dry, sealed & greased, sealed & lubricated, heavy duty version
Sprockets: Weld-on-rim, bolt-on-rim, full hub
Special applications UC for large conveyors, pipeline handling, pavers, milling machines, logging equipment, directional drills, mining equipment